2008 Annual Initiation Ceremony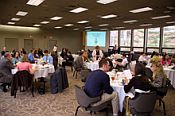 The 2008 MSU Chapter 041 Annual Initiation Ceremony was held on April 19, honoring 81 years at MSU. A total of 123 new members were initiated. Tychele Naomi Turner was awarded the MSU Chapter Graduate Fellowship, and MATRIX – The Center for Humane Arts, Letters and Social Sciences Online, directed by Mark Kornbluh, Dean Rehberger, and Wayne Dyksen, received the Excellence Award in Interdisciplinary Scholarship.
View Initiation Ceremony program (PDF, 210 kb)
Invited Speaker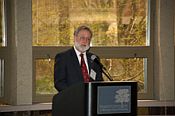 Dr. Rick Shale is a professor of English at Youngstown State University (YSU), where he has taught in different capacities for more than 30 years. His areas of interest include film study, popular culture, and local history. He earned a B.A. in Humanities from Ohio Wesleyan University and an M.A. and Ph.D. in American Culture from the University of Michigan.
Dr. Shale was inducted into Phi Kappa Phi at YSU in 1980 and was elected to Distinguished Member status in 2006. He served a term as chapter president at YSU, and at the national level, he was a member of the Society's Nominating and Marketing and Member Benefits committees. As Vice President for the North Central Region, he serves on the Chapter Relations Committee and works with chapter officers to help strengthen chapters in the north central region.
Dr. Shale spoke about the history of the Honor Society of Phi Kappa Phi, highlighting the Michigan State University Chapter and its accomplishments.
New Initiates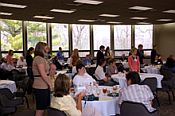 In accordance with national standards for membership in Phi Kappa Phi, student candidates must have completed 24 semester hours, or the equivalent, at Michigan State University. Students are selected from the upper 10% of the senior class; the upper 7.5% of students with junior standing upon completion of 72 hours; and graduate or professional students who rank in the upper 10% of all enrolled graduate students at Michigan State University.
In addition to students, the Chapter is permitted to elect annually a small number of outstanding faculty, professional staff, and alumni chosen on the basis of academic record, professional achievements, and service to higher education. These persons are nominated by chapter members and, as with the student candidates, are discussed and voted on by the members. The Chapter is also permitted to nominate persons for distinguished and honorary memberships. These prestigious distinctions require the review and approval of the Society's national Board of Directors.
View List of 2008 Initiates
View Gallery of 2008 New Initiates
Thumbnail images will open up into high resolution images for download.
2008 Chapter Graduate Fellowship Recipient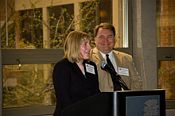 The MSU Chapter Graduate Fellowship is competitively awarded to first-year graduate students. Selection is based on the applicant's promise for success in advanced study, as evidenced by:
Academic achievement
Service and leadership experience, both on and off campus
Letters of recommendation
Personal statement and career goals
Acceptance at an approved graduate or professional program
The 2008 recipient is Tychele N. Turner, a senior at Michigan State University majoring in Genomics and Molecular Genetics. Ms. Turner is a member of Dr. Karen Friderici's Human Genetics Lab at Michigan State University where she is studying the genetic causes of progressive hearing loss. She will begin her graduate studies at the Johns Hopkins University School of Medicine in August 2008 where she will be pursuing a Doctorate of Philosophy in Human Genetics.
2008 Excellence Award in Interdisciplinary Scholarship Recipient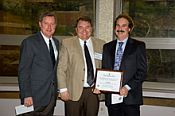 The MSU Chapter's "Excellence Award in Interdisciplinary Scholarship" recognizes the outstanding interdisciplinary work of scholarly teams, in teaching, research, service, or a combination of these activities. This year's award recognizes MATRIX - The Center for Humane Arts, Letters, and Social Sciences Online, an interdisciplinary center spanning the arts, humanities, social sciences, education, computer science, and communications. It is involved in fundamental research, educational applications, scholarship, networking, publications, and outreach.
MATRIX's global reach couples the humanities with technology. Its programs encompass researchers and practitioners from the sciences, communications and myriad other fields. MATRIX continues to document and preserve the wide variety of artifacts found in the heritage of many different cultures. From the extensive work in South Africa documenting the anti-apartheid movement to creating digital repositories of American quilts, MATRIX's continued success exemplifies global interdisciplinary scholarship.