2010 Annual Initiation Ceremony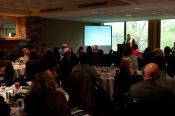 The 2010 MSU Chapter 041 Annual Initiation Ceremony was held on April 24, honoring 83 years at MSU. A total of 86 new members were initiated. Danielle Leigh Rudder was awarded the Love of Learning Award.
View Initiation Ceremony program (PDF, 591 kb)
Invited Speaker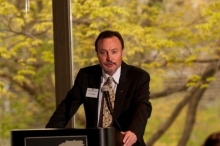 Gary J. Morgan is the director of the Michigan State University Museum. He oversees Michigan's natural history and culture museum and its first Smithsonian Institution affiliate. Dr. Morgan brings with him extensive international experience, particularly in Africa and the Arabian Gulf region. He joined the MSU Museum after working most recently as a heritage advisor and project manager for the Kungoni Centre of Culture and Art in Mua, Malawi, Africa, and as a strategic planner for the Sharjah Museums Department in the United Arab Emirates. Throughout his career, Morgan has worked with collections, research, and learning programs that span anthropology, history, fine arts, technology, and the natural sciences. His appointment at Michigan State in 2009 was his first position in the U.S. He holds a Ph.D. in zoology from Monash University in Melbourne, Australia.
New Initiates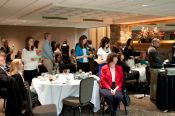 In accordance with national standards for membership in Phi Kappa Phi, student candidates must have completed 24 semester hours, or the equivalent, at Michigan State University. Students are selected from the upper 10% of the senior class; the upper 7.5% of students with junior standing upon completion of 72 hours; and graduate or professional students who rank in the upper 10% of all enrolled graduate students at Michigan State University.
In addition to students, the Chapter is permitted to elect annually a small number of outstanding faculty, professional staff, and alumni chosen on the basis of academic record, professional achievements, and service to higher education. These persons are nominated by chapter members and, as with the student candidates, are discussed and voted on by the members. The Chapter is also permitted to nominate persons for distinguished and honorary memberships. These prestigious distinctions require the review and approval of the Society's national Board of Directors.
View List of 2010 Initiates
View Gallery of 2010 New Initiates
Thumbnail images will open up into high resolution images for download.
2010 Excellence Award in Interdisciplinary Scholarship Recipient
The MSU Chapter's "Excellence Award in Interdisciplinary Scholarship" recognizes the outstanding interdisciplinary work of scholarly teams, in teaching, research, service, or a combination of these activities. This year's award recognizes The Children and Technology Project, which is examining the impact of information technology (IT) use on children's cognitive, social, psychological, and moral development, particularly whether IT use buffers against the adverse effects of disadvantaged environments on development.
Little is known about the actual developmental consequences of children's IT use, which has increased exponentially in recent years. This comprehensive longitudinal study is helping to sort out fact from fiction about the effects of IT use on all areas of child development. The information will be of value to every family that must consider the degree to which they allow and promote the use of technology in their homes and in their children's schools. By extension, it is of considerable importance to educators as more and more educational materials are delivered as games and/or with some form of technological or media enhancement.
Recipients of the 2010 EAIS donated their cash award to the Haitian relief efforts, in response to which the William J. Clinton Foundation sent a letter of appreciation to the MSU Chapter.
2009 Love of Learning Award
Phi Kappa Phi recently created its Love of Learning Award program to help fund post-baccalaureate studies and/or career development for active members who have not previously won a National Graduate Fellowship. Fifty awards of up to $500 each, are awarded annually to support such activities as graduate or professional studies, doctoral dissertations, continuing education, career development, travel related to teaching/studies, etc.
MSU Chapter member Danielle Rudder earned a bachelor of science degree in psychology from MSU in 1998, and a master's in social work from MSU in 2007. In 2007, Ms. Rudder was also initiated into the Honor Society of Phi Kappa Phi by the MSU Chapter. She was employed as a research specialist in the MSU School of Social Work until August 2009, and is still involved with several MSU research projects. She applied for the Phi Kappa Phi Love of Learning Award to assist with the cost of applications to graduate programs in psychology. She has been accepted into the Cognition, Brain and Behavior program at the University of New Mexico, where she will specialize in cognitive neuroimaging and embark on her doctorate this August.