2009 Annual Initiation Ceremony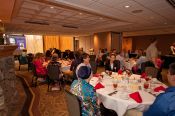 The 2009 MSU Chapter 041 Annual Initiation Ceremony was held on April 25, honoring 82 years at MSU. A total of 77 new members were initiated. Kyalamboka Brown was awarded the PKP National Graduate Fellowship, Rebecca Farnam was awarded the Study Abroad Grant, and Marieka Brouwer was awarded the Love of Learning Award.
View Initiation Ceremony program (PDF, 254 kb)
Invited Speaker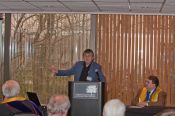 David A. Thomas is a writer specializing in history, art, the social sciences, and Latin America. His work has appeared in such periodicals as Michigan History, , and Horticulture magazine, and in newspapers like the Detroit News and the Lansing State Journal. He was the senior editor and contributing writer for Let the Record Show: The Legal History of Ingham County, Michigan and, more recently, he compiled a history for the Rotary Club of Lansing.
In 2008, David published Michigan State College: John Hannah and the Creation of a World University, 1926-1969 with the Michigan State University Press.
New Initiates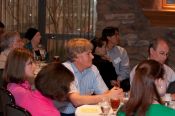 In accordance with national standards for membership in Phi Kappa Phi, student candidates must have completed 24 semester hours, or the equivalent, at Michigan State University. Students are selected from the upper 10% of the senior class; the upper 7.5% of students with junior standing upon completion of 72 hours; and graduate or professional students who rank in the upper 10% of all enrolled graduate students at Michigan State University.
In addition to students, the Chapter is permitted to elect annually a small number of outstanding faculty, professional staff, and alumni chosen on the basis of academic record, professional achievements, and service to higher education. These persons are nominated by chapter members and, as with the student candidates, are discussed and voted on by the members. The Chapter is also permitted to nominate persons for distinguished and honorary memberships. These prestigious distinctions require the review and approval of the Society's national Board of Directors.
View List of 2009 Initiates
View Gallery of 2009 New Initiates
Thumbnail images will open up into high resolution images for download.
2009 PKP National Graduate Fellowship Recipient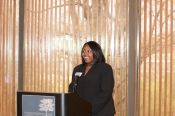 The Honor Society of Phi Kappa Phi annually awards sixty Fellowships of $5,000 each to members entering the first year of graduate or professional study. Each chapter may select one candidate from among its local applicants to compete for the Society-wide awards. Selection is based on the applicant's promise of success in graduate or professional study, as evidenced by:
Academic achievement
Service and leadership experience, both on and off campus
Letters of recommendation
Personal statement and career goals
Acceptance at an approved graduate or professional program
The 2009 recipient is Kyalamboka A. Brown, a senior at Michigan State University majoring in Mathematics with a minor in Earth Space Science. Ms. Brown is an active student leader and has been the recipient of numerous undergraduate awards and scholarships. In addition to the Honor Society of Phi Kappa Phi, she is a member of the Golden Key International Honour Society and a recipient of a Gram Endowed Scholarship. Ms. Brown is the Fundraising Chair of the Somali Association of Michigan and has volunteered with Read to Succeed, the Capital Area Literacy Coalition, the Alternative Spring Break Program, the Boys and Girls Club, and other organizations. Ms. Brown has prepared herself for active research through advanced training and publication. She participated in the McNair Summer Research Opportunity Program at MSU in 2007 and the Summer Research Opportunity Program at University of Michigan in 2008. As an undergraduate, she was also the first author of two research articles that appeared in CrystEngComm, the Royal Society of Chemistry's refereed journal of Crystal Engineering. Ms. Brown plans to become an educational researcher and coordinator of mathematics enrichment programs for inner-city youth. After graduation she will attend the University of Michigan where she will pursue a Master of Arts degree in Education with Secondary Teacher Certification. Ms. Brown plans to apply what she has learned in the classroom as a teacher in an urban school system, before going on for a Ph.D. in Mathematics Education.
2009 Study Abroad Grant
Phi Kappa Phi Study Abroad Grants are designed to help support undergraduates as they seek knowledge and experience in their academic fields by studying abroad. Fifty $1,000 grants are awarded each year.
MSU first year student Rebecca L. Farnum has been awarded a 2009 Study Grant. Ms. Farnum is majoring in Interdisciplinary Humanities with a focus on Peace and Justice in Africa and the Middle East, in the College of Arts and Letters. A 2008 MSU Alumni Distinguished Scholar, she is member of the MSU Honors College and a student team honored at the 2009 All-University Excellence in Diversity Recognition and Awards Convocation. This summer Ms. Farnum will use her grant to study Arabic language at the American University in Cairo.
2008 Love of Learning Award
Phi Kappa Phi recently created its Love of Learning Award program to help fund post-baccalaureate studies and/or career development for active members who have not previously won a National Graduate Fellowship. Fifty awards of up to $500 each, are awarded annually to support such activities as graduate or professional studies, doctoral dissertations, continuing education, career development, travel related to teaching/studies, etc.
MSU Chapter member Marieka E. Brouwer, a doctoral student in the Department of Anthropology, College of Social Science, has been named Michigan State University's first recipient of the Phi Kappa Phi Love of Learning Award. With the Award, Ms. Brouwer was able to extend a dissertation data collection trip to the Netherlands last fall where she studied how late glacial and early post-glacial hunter-gatherers coped with a rapidly changing landscape 12,000 to 6,000 years ago.