2017 Annual Initiation Ceremony
The 2017 MSU Chapter 041 Annual Initiation Ceremony and Banquet was held on April 8, honoring 90 years at MSU. A total of 83 new members were initiated.
View Initiation Ceremony program
Invited Presentations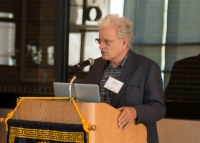 Mark Sullivan is a composer and associate professor and director of the computer music studios at the Michigan State University College of Music. His compositions have been performed widely. Over three decades at MSU, he has taught music composition, computer music, and aesthetic theory, and he has written on the relationship between music, movement, and language. He developed and taught courses on the pedagogy of composition, and helped develop two major initiatives on creativity, innovation, and entrepreneurship. During this time, he also created integrated media arts programs for youth, most recently, as a part of a faculty team that helped create a new program centered on developing literacy through songwriting and media composition. As of 2016, he will split his efforts between the College of Music, and the Hub for Innovation in Learning and Technology, working on several projects, including one that integrates art and media composition into STEM education, and another that focuses on cultivating digital media literacy across the curriculum. He received a doctor of musical arts from the University of Illinois at Urbana-Champaign. Sullivan composes for acoustic instruments, with and without the computer, and for both instruments and computer-generated sounds. He specializes in the analysis and performance of contemporary music and in studies that relate music to the other arts and society.
New Initiates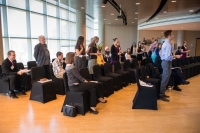 In accordance with national standards for membership in Phi Kappa Phi, student candidates must have completed 24 semester hours, or the equivalent, at Michigan State University. Students are selected from the upper 10% of the senior class; the upper 7.5% of students with junior standing upon completion of 72 hours; and graduate or professional students who rank in the upper 10% of all enrolled graduate students at Michigan State University.
In addition to students, the Chapter is permitted to elect annually a small number of outstanding faculty, professional staff, and alumni chosen on the basis of academic record, professional achievements, and service to higher education. These persons are nominated by chapter members and, as with the student candidates, are discussed and voted on by the members. The Chapter is also permitted to nominate persons for distinguished and honorary memberships. These prestigious distinctions require the review and approval of the Society's national Board of Directors.