2018 Annual Initiation Ceremony
The 2018 MSU Chapter 041 Annual Initiation Ceremony and Banquet was held on April 14, honoring 91 years at MSU. A total of 67 new members were initiated.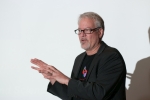 View Initiation Ceremony program
Invited Presentations
Karl Gude is the director of the Media Sandbox in the College of Communication Arts and Sciences, a program that mixes students with various interests and abilities to collaborate on real-world challenges. Gude is the former director of information graphics at Newsweek magazine and the Associated Press. Gude also teaches a 500-student Media Sandbox class on creative thinking and problem solving.
In 2017, Gude received the Quality in Undergraduate Teaching Award and was also featured in the President's Report about teaching creativity. In 2013, Gude was recognized with the Faculty Impact Award by his college. Gude has presented at TEDx Detroit, Lansing and Midland and has spoken twice at the South by Southwest (SXSW) technology conference on the "Power of Visual Storytelling." Gude recently gave a talk at the "Political Analytics Conference" at Harvard University and is just wrapping up a National Science Foundation grant where he collaborated with several universities on an evolutionary biology project.
New Initiates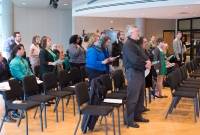 In accordance with national standards for membership in Phi Kappa Phi, student candidates must have completed 24 semester hours, or the equivalent, at Michigan State University. Students are selected from the upper 10% of the senior class; the upper 7.5% of students with junior standing upon completion of 72 hours; and graduate or professional students who rank in the upper 10% of all enrolled graduate students at Michigan State University.
In addition to students, the Chapter is permitted to elect annually a small number of outstanding faculty, professional staff, and alumni chosen on the basis of academic record, professional achievements, and service to higher education. These persons are nominated by chapter members and, as with the student candidates, are discussed and voted on by the members. The Chapter is also permitted to nominate persons for distinguished and honorary memberships. These prestigious distinctions require the review and approval of the Society's national Board of Directors.

View List of 2018 Student Initiates
View Gallery of 2018 New Initiates
Thumbnail images will open up into high resolution images for download.