2011 Annual Initiation Ceremony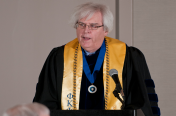 The 2011 MSU Chapter 041 Annual Initiation Ceremony was held on April 16, honoring 84 years at MSU. A total of 86 new members were initiated. Erik Byker and Lori Hoisington were awarded the Love of Learning Award, while Jillian Stewart was this year's National Graduate Fellowship Nominee.
View Initiation Ceremony program (PDF, 190 kb)
Invited Speaker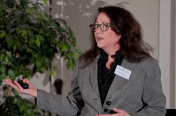 Dana Brazil is the Associate Director of Michigan State University Federal Credit Union Institute for Arts & Creativity as well as being an M.F.A. acting student here at MSU in the College of Arts and Letters. She is a graduate of MSU College of Arts and Sciences and the American Academy of Dramatic Arts, New York. Dana is an award winning professional actor and teaching artist and is a proud member of the Actors' Equity Association and the Screen Actors Guild. In her spare time Dana enjoys teaching at the Williamston Theatre and serving on the board of directors for the new Stormfield Theatre.
New Initiates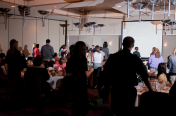 In accordance with national standards for membership in Phi Kappa Phi, student candidates must have completed 24 semester hours, or the equivalent, at Michigan State University. Students are selected from the upper 10% of the senior class; the upper 7.5% of students with junior standing upon completion of 72 hours; and graduate or professional students who rank in the upper 10% of all enrolled graduate students at Michigan State University.
In addition to students, the Chapter is permitted to elect annually a small number of outstanding faculty, professional staff, and alumni chosen on the basis of academic record, professional achievements, and service to higher education. These persons are nominated by chapter members and, as with the student candidates, are discussed and voted on by the members. The Chapter is also permitted to nominate persons for distinguished and honorary memberships. These prestigious distinctions require the review and approval of the Society's national Board of Directors.
View List of 2011 Initiates
View Gallery of 2011 New Initiates
Thumbnail images will open up into high resolution images for download.
2011 Excellence Award in Interdisciplinary Scholarship Recipient
The MSU Chapter's "Excellence Award in Interdisciplinary Scholarship" recognizes the outstanding interdisciplinary work of scholarly teams, in teaching, research, service, or a combination of these activities. This year's award recognizes The Conservation Ethics Group, which examines how natural resource policy and decision making inescapably involve the fusion of ecological and social sciences with philosophical ethics. Whereas a policy or decision itself assumes the form of an argument prescribing a certain course of action, the premises underlying that argument are a fusion of factual claims derived from the ecological or social sciences, or value claims derived from philosophical ethics. Any assertion that we ought to engage in a given policy will, therefore, involve both empirical and normative claims. It is only through the consideration of both empirical and normative claims—not by either alone—that we can fully and wisely prescribe a course of action. However, there are very few examples of where natural resource policy is systematically, deliberatively, and rigorously treated in this fashion. In 2007, Dr. Nelson and Dr. Vucetich created the Conservation Ethics Group (CEG) to address this shortcoming. Drs. Gore and Bump joined CEG in 2009.
The vision of CEG has been to create a community (statewide, national, international) of natural resource professionals with an ability to wisely handle the ethical dimensions of natural resource management. To advance this vision, CEG has conducted training workshops for natural resource students and professionals on how to handle applied and theoretical aspects of conservation ethics, as well as problem-solving workshops focused on specific issues in natural resource management. The team also hopes to create a graduate concentration and an undergraduate specialization at MSU. Numerous publications have resulted from this collaboration, most recently the book Moral Ground: Ethical Action for a Planet in Peril, by Moore and Nelson (Trinity University Press, San Antonio, 2010).
2010 Love of Learning Award
Phi Kappa Phi recently created its Love of Learning Award program to help fund post-baccalaureate studies and/or career development for active members who have not previously won a National Graduate Fellowship. Fifty awards of up to $500 each, are awarded annually to support such activities as graduate or professional studies, doctoral dissertations, continuing education, career development, travel related to teaching/studies, etc.
Erik Byker is a fourth year Ph.D. candidate in the Curriculum, Teaching, and Educational Policy Program at Michigan State University, where he specializes in educational technology. He earned a Master of Education degree from the University of Virginia and a dual degree in elementary education and political science from Dordt College. In addition to pursuing his research interests in educational technology, Mr. Byker teaches online courses for the Master of Education program at Michigan State. In 2010, he was inducted into Phi Kappa Phi and applied for the Love of Learning Award. As an honored recipient of the award, Byker plans on using the scholarship to assist in the cost of collecting data for his dissertation research in Bangalore, India. Upon completion of the doctoral program, he plans to seek out an academic position in the field of teacher education and educational technology.
Lori Hoisington is an adjunct instructor for the Department of Human Development and Family Studies and a senior MRI technologist and instructor for MRI in the Department of Radiology/MRI at Michigan State University. She also earned a Master in Family Studies degree at MSU in 2006. In 2010, her research in MRI breast cancer detection was accepted for presentation by the International Society of Magnetic Resonance in Medicine in Stockholm, Sweden. Ms. Hoisington applied for the Love of Learning Award to offset the expenses incurred while attending the conference. As she remains actively involved in her current research, Ms. Hoisington intends to expand her research in human development and family studies with a focus on youth development.
2011 Phi Kappa Phi National Graduate Fellowship Nominee
Every year, the Honor Society of Phi Kappa Phi awards fifty-seven Fellowships of $5,000 each and three at $15,000 each to members entering the first year of graduate or professional study. Each Phi Kappa Phi chapter may select one candidate from among its local applicants to compete for the Society-wide awards.
Jillian Stewart graduated with honors in December 2010, earning a B.S. in kinesiology. While attending Michigan State University she was a member of the Honors College, as well as the women's lacrosse team and polo club. She currently works in the MSU anatomy laboratory and is the head coach for a local varsity women's lacrosse team. She will be attending Northwestern University in the fall of 2011 to pursue her doctorate in physical therapy. After earning her DPT, she plans to become certified in hippotherapy and eventually start her own nonprofit therapeutic riding center. If she is awarded a fellowship the funds will be used to purchase books and pay a portion of her tuition for the upcoming school year.