2013 Annual Initiation Ceremony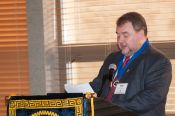 The 2013 MSU Chapter 041 Annual Initiation Ceremony was held on April 13, honoring 86 years at MSU. A total of 66 new members were initiated. Clara Balliet was awarded the Study Abroad Grant, and Yang Zhang was this year's National Graduate Fellowship Nominee.
View Initiation Ceremony program
Invited Speaker
The invited speaker for the Annual Initiation Ceremony, Dr. Mary Todd, Executive Director, The Honor Society of Phi Kappa Phi, was unfortunately prevented from speaking due to air flight problems beyond her control. The Chapter will likely renew its invitation to Dr. Todd in the future. New Faculty Inductee, Robert Root-Bernstein generously agreed to present in place of Dr. Todd.
A Professor in the Physiology Department at Michigan State University, Dr. Root-Bernstein is a scientist, humanist, and artist who studies the evolution of metabolic control systems, autoimmune diseases, drug development, and the creative process in the sciences and arts. He exhibits his artwork in both group and solo shows and collaborates with transmedia artist Adam Brown. The two collaborated on the "Origins of Life 1.8" exhibition at the Reuben Fleet Science Center in San Diego which doubled as a working experiment. Bob is at work on two books, one on artists and musicians as scientists and inventors, and the other on scientists as visual artists. His talk was entitled: "Why Scientists Should Care About the Arts," and focused on findings from research on leading scientists whose involvement in the arts, music, and crafts have paid off in surprisingly effective ways — for their science.
New Initiates
In accordance with national standards for membership in Phi Kappa Phi, student candidates must have completed 24 semester hours, or the equivalent, at Michigan State University. Students are selected from the upper 10% of the senior class; the upper 7.5% of students with junior standing upon completion of 72 hours; and graduate or professional students who rank in the upper 10% of all enrolled graduate students at Michigan State University.
In addition to students, the Chapter is permitted to elect annually a small number of outstanding faculty, professional staff, and alumni chosen on the basis of academic record, professional achievements, and service to higher education. These persons are nominated by chapter members and, as with the student candidates, are discussed and voted on by the members. The Chapter is also permitted to nominate persons for distinguished and honorary memberships. These prestigious distinctions require the review and approval of the Society's national Board of Directors.
View List of 2013 Initiates
View Gallery of 2013 New Initiates
Thumbnail images will open up into high resolution images for download.
2013 Excellence Award in Interdisciplinary Scholarship Recipient
The MSU Chapter's "Excellence Award in Interdisciplinary Scholarship" recognizes the outstanding interdisciplinary work of scholarly teams, in teaching, research, service, or a combination of these activities. This year's award recognizes ArtSmarts Among Innovators in Science, Technology, Engineering, and Mathematics (STEM).
Does arts and crafts involvement have any relationship with economic development? Do innovators and entrepreneurs use the skills they develop through arts and crafts involvement for problem solving?
MSU's ArtSmarts research team attempted to answer these questions by investigating the creativity and innovation of Honors College graduates from 1990 to 1995 who majored in STEM subjects. From 2010 to 2012 the multidisciplinary team conducted a survey of arts education and exposure in relation to papers published, patents granted, and companies founded.
Analysis of the survey responses indicated that Honors College graduates majoring in STEM subjects are far more likely to have extensive arts and crafts skills than the average American. The respondents reported three to eight times greater involvement in arts training and practice at some point in their lives than the general public.
Among these individuals, such experiences are significantly correlated with producing patentable inventions and founding new companies. The vast majority of them believe that their innovative ability is stimulated by their arts experience; many recommended increasing the exposure of science and technology students to arts and crafts. And, in fact, the ArtSmarts report supports continued financing of the arts with the aim of stimulating economic growth in Michigan and nationally.
In addition to the ArtSmarts report, the team's findings were delivered at a national symposium sponsored by the Brookings Institution and the National Endowment for the Arts in 2012. The proceedings of the symposium are being published by the Brookings Institution. The findings have also been accepted for publication in the Economic Development Quarterly.
In 2012 the team received an award from the Michigan Council for Arts and Cultural Affairs to continue their exploration of the connection between creativity and innovative workplace design.
2012 Study Abroad Grant
Phi Kappa Phi Study Abroad Grants are designed to help support undergraduates as they seek knowledge and experience in their academic fields by studying abroad. Fifty grants in the amount of $1,000 each are awarded every year.
Clara Balliet is a senior majoring in arts & humanities and Chinese. This fall, she plans to continue her Chinese language studies at Zhejiang University in Hangzhou province. In China, she will immerse herself in the culture, work towards fluency, and have a more authentic connection with the global Chinese community. This knowledge of Chinese language and culture will allow her to be more sensitive to the needs of the Chinese-speaking community and, in turn, enhance her professional goal of supporting financial empowerment. She will enter the workforce fluent in Spanish, Chinese, and English. This will enable her to apply her professional skills to several ethnic communities, including the growing Chinese and Latino populations in the United States.
2013 Phi Kappa Phi National Graduate Fellowship Nominee
Every year, the Honor Society of Phi Kappa Phi awards fifty-one Fellowships of $5,000 each and six at $15,000 each to members entering the first year of graduate or professional study. Each Phi Kappa Phi chapter may select one candidate from among its local applicants to compete for the Society-wide awards.
Yang Zhang majored in genomics and molecular genetics at Michigan State University. In 2008, he won the First Prize in the National Biology Unit Competition, and the Third Prize in the National Biology Olympic Competition in China. He has taken 8 graduate-level biological courses during his undergraduate study. With an overall GPA of 4.0, Yang received a number of scholarships from Michigan State University. He is a member of both Phi Kappa Phi and Phi Beta Kappa honor societies. He has been doing research in Dr. Lee Kroos' lab at the Biochemistry and Molecular Biology Department and preparing two first-author manuscripts for publication over the last three and half years. In 2012, he gave a poster presentation at the 4th ASM conference on Prokaryotic Cell Biology and Development in Montreal, Canada. He will pursue his Ph.D. in immunology at University of California, San Francisco.