2016 Annual Initiation Ceremony
The 2016 MSU Chapter 041 Annual Initiation Ceremony and Banquet was held on April 9, honoring 89 years at MSU. A total of 88 new members were initiated.
View Initiation Ceremony program
Invited Presentations

Douglas Noverr is professor emeritus in the Department of Writing, Rhetoric, and American Cultures and interim chair of the Department of Romance and Classical Studies at Michigan State University. He also taught in the American Studies graduate program. Dr. Noverr was acting chairperson of the Department of Spanish and Portuguese between 2006 and 2009, and served as senior associate dean in the College of Arts and Letters from 2007-2010.
Noverr's research and publications span the fields of sports history and culture, film history, popular culture topics, and American literature. He is co-author or coeditor of eight books, most recently Michigan State University: The Rise of a Research University and the New Millennium, 1970-2005 (Vol. 3 of the MSU Sesquicentennial Histories; MSU Press, 2015). He has given presentations at over twenty international conferences and is the coordinator of international conferences for the Popular Culture Association. A current research project involves a study of American writers and writings that present narratives about Mexico's history.

Katie Fitzgerald joined Make-A-Wish® Oklahoma as president and CEO in January 2016. In addition to managing the operations of the organization, Ms. Fitzgerald works closely with supporters all over the state to promote and expand the Make-A-Wish mission of "granting wishes to children with life-threatening medical conditions to enrich the human experience with hope, strength and joy."
Fitzgerald's resume includes extensive experience in the fields of child advocacy, child and family services, and fund development. She joined Make-A-Wish following a six-year tenure as executive director at the Center for Children and Families in Norman, Oklahoma, where she led a major expansion in operating and capital revenue, along with a related expansion in child and family services. Fitzgerald has also served as director for the Women's Leadership Initiative at the University of Oklahoma and led the Oklahoma Afterschool Network at the Oklahoma Institute for Child Advocacy. Before moving to Oklahoma, she served as program director with the W.K. Kellogg Foundation in Battle Creek, Michigan, and as a vice president with United Way of Greater Battle Creek. Fitzgerald earned her master's of social work degree from the University of Michigan and her undergraduate degree at Michigan State University, where she was inducted into Phi Kappa Phi in 1993.
New Initiates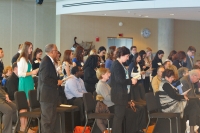 In accordance with national standards for membership in Phi Kappa Phi, student candidates must have completed 24 semester hours, or the equivalent, at Michigan State University. Students are selected from the upper 10% of the senior class; the upper 7.5% of students with junior standing upon completion of 72 hours; and graduate or professional students who rank in the upper 10% of all enrolled graduate students at Michigan State University.
In addition to students, the Chapter is permitted to elect annually a small number of outstanding faculty, professional staff, and alumni chosen on the basis of academic record, professional achievements, and service to higher education. These persons are nominated by chapter members and, as with the student candidates, are discussed and voted on by the members. The Chapter is also permitted to nominate persons for distinguished and honorary memberships. These prestigious distinctions require the review and approval of the Society's national Board of Directors.
View Gallery of 2016 New Initiates
Thumbnail images will open up into high resolution images for download.
2016 Excellence Award in Interdisciplinary Scholarship Recipient
The MSU Chapter's "Excellence Award in Interdisciplinary Scholarship" recognizes the outstanding interdisciplinary work of scholarly teams, in teaching, research, service, or a combination of these activities. This year's award recognizes Quality Milk Alliance.
The Quality Milk Alliance (QMA) is a five-year, multi-institutional project, funded by the USDA's National Institute of Food and Agriculture, with the goal to reduce mastitis and antibiotic use on dairy farms. Mastitis is one of the most costly diseases of dairy cattle. It impacts farm productivity, food safety, and the health and welfare of dairy cattle. This pioneering project blends the research and applied cultures of both veterinary medicine and social science to assess practices for preventing and controlling mastitis on dairy farms in Michigan, Pennsylvania, and Florida. In doing so, the QMA team has identified the dairy industry's limited experience with labor management in general, and with Latino immigrant workers in particular.
These deficiencies require systematic attention, as the size of dairy herds and reliance on non-family labor continue to increase, along with demographic shifts in labor.Employees perform critical tasks related to mastitis control, such as milking cows. However, communication and training barriers between managers and employees lead to misunderstandings about proper execution of tasks, or "protocol drift," thus increasing the incidence of mastitis. To address this problem, project leaders are utilizing McGregor's theory of worker motivation to promote understanding among producers of different approaches to employee management.
The overall goal of the QMA team is not only to help dairy producers reduce mastitis through traditional veterinary medical pathways, but also to engage employees as effective team members. In addition, the team has nurtured a novel role for veterinarians beyond herd health advisor to educator of workers, or "on-farm science teacher." Combining animal health and social science expertise, this project is addressing an animal health problem that limits the sustainability of the dairy industry and jeopardizes dairy food quality and global food security.