2022 Annual Initiation Ceremony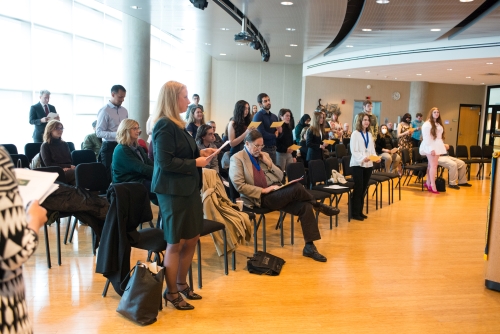 The 2022 MSU Chapter 041 Annual Initiation Ceremony and Banquet was held on March 26th, honoring 95 years at MSU. A total of 89 new members were initiated.
Invited Presentation
Susi Elkins is director of broadcasting and general manager of WKAR Public Media at Michigan State University. WKAR is home to public radio and television for the Michigan capital region, bringing the best of PBS, PBS Kids, NPR, Classical music, and award-winning original content to more than 500,000 mid-Michigan residents each week.
Under Elkins' leadership, WKAR has increased its commitment to early childhood education through the launch of the PBS Kids 24/7 channel, WKAR Family original content, and the PBS KIDS Playtime Pad research collaborative. Elkins also led the launch of a new WKAR News/Talk FM station for the capital region and strengthened local news coverage with an emphasis on education and public affairs reporting.
In collaboration with MSU, Elkins led the effort to launch the first ATSC 3.0 experimental station licensed to a public media organization. Granted the FCC experimental license in June 2018, WKAR then launched the Next Gen Media Innovation Lab to accelerate development of public service applications and NextGen business services for public broadcasters.
Elkins currently serves on the PBS Board, the board of America's Public Television Stations (APTS), and the University Licensee Association Executive Council (ULA). Prior to her appointment in March 2017, Elkins served in a variety of roles at the station, including interim director, television station manager, content and community engagement manager, public television producer, and instructional television multi-media producer.
Elkins holds a bachelor's degree in telecommunication and a master's degree in educational technology, both from MSU.
New Initiates
In accordance with national standards for membership in Phi Kappa Phi, student candidates must have completed 24 semester hours, or the equivalent, at Michigan State University. Students are selected from the upper 10% of the senior class; the upper 7.5% of students with junior standing upon completion of 72 hours; and graduate or professional students who rank in the upper 10% of all enrolled graduate students at Michigan State University.
In addition to students, the Chapter is permitted to elect annually a small number of outstanding faculty, professional staff, and alumni chosen on the basis of academic record, professional achievements, and service to higher education. These persons are nominated by chapter members and, as with the student candidates, are discussed and voted on by the members. The Chapter is also permitted to nominate persons for distinguished and honorary memberships. These prestigious distinctions require the review and approval of the Society's national Board of Directors.
View List of 2022 Student Initiates
View Gallery of 2022 New Initiates (Thumbnail images will open up into high resolution images for download)
2022 Excellence Award in Interdisciplinary Scholarship Recipient
The MSU Chapter's "Excellence Award in Interdisciplinary Scholarship" recognizes the outstanding interdisciplinary work of scholarly teams, in teaching, research, service, or a combination of these activities. This year's award recognizes the Sustainable Climate, Agriculture, Landscapes, and Energy (SCALE) project.
The Sustainable Climate, Agriculture, Landscapes, and Energy (SCALE) team has been actively growing and evolving for over ten years. SCALE is MSU-based but includes strong collaborations with team members at four peer universities. Currently, 11 senior members make up the SCALE team, though dozens of undergraduates, graduate students, postdoctoral researchers, research technicians, and affiliated faculty have collaborated with the team over the course of four previous grants. Most recently, the team submitted a $3.6 million proposal to NSF's Growing Convergence Research (GCR) program, aiming to bring a stronger ecological focus to the team.
The SCALE team has received over $9 million in federal grants for their transformational research on the sustainable management of food, energy, and water resources in the U.S. With each round of funding, the collaboration has expanded to include broader academic expertise, while also refining the process through which collaborative science is done. This process strives to create science that extends beyond interdisciplinary research to conduct transdisciplinary science. A recent example of this transdisciplinary approach is an article published in the journal Environmental Science & Policy, which utilized remote sensing and hydrogeological methodologies to evaluate a Kansas irrigation policy through an environmental sociological lens. The results of this work were shared with the Kansas state House Committee on Agriculture and leaders of groundwater management districts across the state.
2022 Phi Kappa Phi National Graduate Fellowship Nominee
Every year, the Honor Society of Phi Kappa Phi awards fifty Fellowships of $8,500 each, six at $20,000 each, and two at $35,000 each to members entering the first year of graduate or professional study. Each Phi Kappa Phi chapter may select one candidate from among its local applicants to compete for the Society-wide awards.
Eliot Haddad is a senior in Lyman Briggs College at Michigan State University, majoring in human biology with minors in bioethics and environment & health. Haddad is an Alumni Distinguished Scholar in the Honors College and is interested in a career in academic and clinical medicine. While at MSU, he has had extensive research experience in the lab of Dr. Sarah Comstock, publishing seven peer reviewed articles about the relationship between the gut microbiome and health in the contexts of pregnancy, infancy, and nutrition. He has also received numerous awards for his presentations at university research symposia such as the Diversity Research Showcase, Lyman Briggs Research Showcase, and the University Undergraduate Research and Arts Forum. Haddad is a member of the MSU Homecoming Court and currently volunteers with the Adaptive Sports and Recreation Club at MSU. He also works as an undergraduate learning assistant for introductory microbiology and as a Residential Business Community tutor. Haddad has been accepted to Harvard Medical School, Cleveland Clinic Lerner College of Medicine, and Northwestern University Feinberg School of Medicine, among several others.