2014 Annual Initiation Ceremony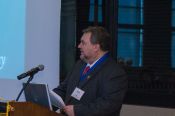 The 2014 MSU Chapter 041 Annual Initiation Ceremony was held on April 5, honoring 87 years at MSU. A total of 85 new members were initiated. Alison Chrisler was awarded the Love of Learning Grant, and James Miller was this year's National Graduate Fellowship Nominee.
View Initiation Ceremony program (PDF, 217 kb)
Invited Performance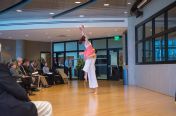 Happendance is a professional company of dancers, choreographers, and teachers who are well-known for their original concerts, innovative school programs, and outstanding instruction in which dance is emphasized as an element of life experience and learning. The Happendance organization has three main branches—Happendance School, the Happendance To Go outreach program, and the Lansing-based Happendance Professional Company.
Their mission is to stimulate support for the art of dance through performances and educational programs, to broaden the accessibility of dance to a diverse community, and to promote dance for lifelong physical and mental fitness.
Thomas Bond was raised in Manistee, Michigan, by a mother who taught dance and a family that perpetuated the arts. His dance training is based in Horton technique, and he has performed in numerous productions such as The Nutcracker. He currently studies at Michigan State University, where he is working on a BA in psychology with a dance minor, and plans to attend graduate school next year in performance studies. Bond serves as president of the MSU student dance company, Orchesis, and has participated as a dancer in its recent productions. During the summer of 2013, he played the lead in the Manistee Civic Players' production of Peter Pan. His current undertakings include choreographing the 2014 repertory concert, Brought Into Being, and a senior honors thesis analyzing dance movement therapy within psychology. This is his first season as a member of Happendance Professional Company and the To Go Team.
Danielle Selby received her BFA in modern dance and choreography from the College at Brockport, State University of New York. She has presented choreography at Revisited, an annual alumni showcase in Manhattan, New York; Fertile Ground in Queens, New York; Etc. Performance Series in Philadelphia, Pennsylvania; and Rebound in New Haven, Connecticut. She performed at the Judson Church as a part of the Bailout series and at the House of Blues in New Orleans, Louisiana. Selby has danced for Libertina Dance Company (Queensbury, New York) and Nacre Dance Company (Albany, New York), the highlight of her experience with Nacre being a performance of Doris Humphrey and Ruth St Denis' "Soaring." She became a member of Happendance Professional Company and the To Go Team for the 2011-2012 season.
New Initiates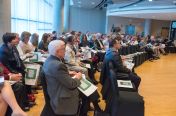 In accordance with national standards for membership in Phi Kappa Phi, student candidates must have completed 24 semester hours, or the equivalent, at Michigan State University. Students are selected from the upper 10% of the senior class; the upper 7.5% of students with junior standing upon completion of 72 hours; and graduate or professional students who rank in the upper 10% of all enrolled graduate students at Michigan State University.
In addition to students, the Chapter is permitted to elect annually a small number of outstanding faculty, professional staff, and alumni chosen on the basis of academic record, professional achievements, and service to higher education. These persons are nominated by chapter members and, as with the student candidates, are discussed and voted on by the members. The Chapter is also permitted to nominate persons for distinguished and honorary memberships. These prestigious distinctions require the review and approval of the Society's national Board of Directors.
View List of 2014 Initiates
View Gallery of 2014 New Initiates
Thumbnail images will open up into high resolution images for download.
2014 Excellence Award in Interdisciplinary Scholarship Recipient
The MSU Chapter's "Excellence Award in Interdisciplinary Scholarship" recognizes the outstanding interdisciplinary work of scholarly teams, in teaching, research, service, or a combination of these activities. This year's award recognizes Healthcare Packaging Immersion Event (HcPIE).
MaryKay Smith, Director of MSU's Learning and Assessment Center, which is a state-of-the-art center for healthcare simulation, and Laura Bix, an Associate Professor in the School of Packaging, have formed an unusual collaboration that would not be possible anywhere but on the campus of Michigan State University.
Together, they couple scientific research with application using simulation to improve the quality of healthcare. Specifically, they have investigated the role of packaging in issues such as: medication error, patient non-adherence and hospital acquired infections. The fruits of their research efforts are, in turn, shared with external stakeholders through the "Healthcare Packaging Immersion Event" (HcPIE) which was hosted in 2010, 2011 and 2013. One conference attendee, a manufacturer of medical devices, described his experience with the event as; "...the best packaging seminar, learning experience and networking event I have ever attended. The ability to speak with medical device end users (physicians, nurses, practitioners) and interact with them as they use different types of packaging and devices was tremendous. I normally can't wait for these seminars to get over, but was actually hoping it would go for another day to keep the learning and interacting going. It is an opportunity that all medical device packaging designers and engineers should experience."
The conference also serves as a springboard for ongoing collaborative research between the School of Packaging, the Learning and Assessment Center and industry, as many subsequent initiatives resulting from these interactions advance the design of packages and medical devices for improved patient care.
Benefits are not limited to external stakeholders. Other beneficiaries include students, healthcare professionals, clinical institutions and patients. Funds generated directly support student research, particularly at the graduate level. Teaching and learning is enhanced at both the undergraduate and graduate level from the incorporation of event topics into classes and the acquisition of simulators and clinical equipment. At least three students that have been integral to HcPIE have received job offers from the healthcare packaging industry. Healthcare professionals have the opportunity to interface with packaging engineers in the spirit of improving patient care. This unique campus collaboration approaches the complex problems of healthcare in ways that no one else in the world is.
2013 Love of Learning Grant
Phi Kappa Phi Study Abroad Grants are designed to help support undergraduates as they seek knowledge and experience in their academic fields by studying abroad. One hundred and forty-seven grants in the amount of $500 each are awarded every year.
Alison Chrisler is a second year doctoral student in the Human Development and Family Studies department at Michigan State University where she teaches a parenting course to undergraduate juniors and seniors. She is currently an Interdisciplinary Inquiry and Teaching Fellow, which is a fellowship program offered through the James Madison College at MSU.
After obtaining her undergraduate degree in Child Life and Studies in Education from Edgewood College in Madison, Wisconsin, she worked in hospitals where she prepared and supported hospitalized children and their family members in coping with medical stressors. She later obtained a master's degree in Youth Development at Michigan State University in Human Development and Family Studies and most recently worked at Child Trends, a non-profit research center in Washington, DC, as a Research Analyst in the Early Childhood Development area. Ali's research interests focus on identifying ways families can support their youth who identify as lesbian, gay, bisexual, and transgender during the "coming out" process.
2014 Phi Kappa Phi National Graduate Fellowship Nominee
Every year, the Honor Society of Phi Kappa Phi awards fifty-one Fellowships of $5,000 each and six at $15,000 each to members entering the first year of graduate or professional study. Each Phi Kappa Phi chapter may select one candidate from among its local applicants to compete for the Society-wide awards.
James Miller is a senior at Michigan State University majoring in mechanical engineering and minoring in agronomy and music. James has also contributed considerably towards building the MSU Solar Car Team. During his involvement and eventual leadership of the team, MSU's team qualified for two solar car competitions for the first time in MSU history and expanded its design budget from $3,000 to over $75,000. James has also enjoyed participation in the MSU Symphony Orchestra and Concert Orchestra for all 4 years of his time at MSU. James will be continuing on to pursue a master's degree and PhD in Stanford University's Mechanical Engineering department, with a desired research focus at the interface of mechanical engineering and biology.